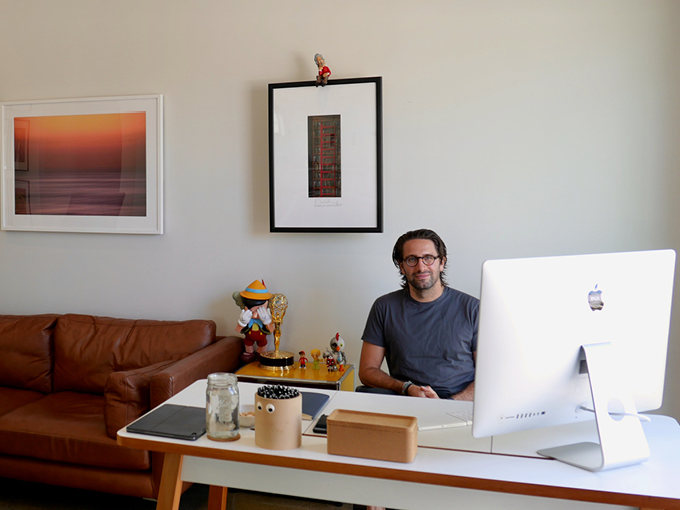 As lockdowns lift in some countries like New Zealand and South Korea, reopening offices is starting to become a greater possibility for kidcos. However, distributor PGS Entertainment, which has offices in Paris, LA and Barcelona (all, very much, still in lockdown), is preparing its staff for several more months of remote work.
Even though France has lifted some lockdowns after eight weeks of restrictions, there's still too much uncertainty around sending staff back to the offices right now, says PGS president Philippe Soutter (pictured in his at home office). It's possible that in the near future some of the staff could get sick while in transit or while at one of its five offices worldwide, he says. So after getting feedback from the company's 20 full-time employees, he began the process of making sure everyone had what they needed to make working remotely easier in the coming months.
Beyond traditional tools, like computers and software, PGS equipping all employees with an air conditioning unit, which cost around US$500 each, because it can get very warm in Paris and LA in the summer, says Soutter. The distributor is also providing staff a bike, which cost around US$300 each, so they can avoid public transit as well as stay active. It is also planning to have daily meals delivered to make sure people are eating healthy; and subsidizing some of the cost parents are spending on nannies and caregivers, although he declined to say how many employees are parents or how much it's subsidizing.
"Instead of spending money now in changing the layout of our offices, or taking employees' temperatures we're investing in our people's [home offices]," says Soutter. "This hopefully will keep everyone productive and ensure we can work efficiently until we're back together again."
PGS also plans to maintain staffing levels until at least the end of the year.
"This is a time of great anxiety for everyone in the industry, and we're trying to do everything we can to relieve that," says Soutter. "It's a bit of an investment in the short-term, but by doing this we're building a culture that attracts and retains talent because it tells people that this smaller, private, family-run business treats its staff like family."
With an eye to the future, Soutter doesn't know how long it will be before the team gets back to working in the offices. However, the company is not giving up any real estate and eventually staff will return to offices, he says. It's too difficult to train new staff entirely remotely (although the distributor had no plans for new hires at this time), and a company can't have the same degree of team-building when everyone is always physically-distanced, he adds.
But while the company shoulders the expense of improving home offices, it's saving in other ways. The pandemic has stalled the distributor's travel plans. Usually, PGS travels more than 50 times per year for one-on-one meetings a year; while its team visits the offices in LA, Paris, Hong Kong, Barcelona and Geneva regularly. But PGS will focus on video meetings for the foreseeable future, says Soutter.
The company's priority now is keeping its team productive during this tricky time, says Soutter. Business has slowed for the distributor, which handles a catalogue of animated kids and family series that includes Bagdaraian Productions and Technicolor Animation Productions' 314 x 11-minute Alvinnn!!! and the Chipmunks (pictured) and Gutsy Animation's Moominvalley (26 x 22 minutes), says Soutter.
A lot of buyers have hit pause on new deals as they reassess their budgets and capabilities, while there's also been an increase in market competitiveness as sellers vie to win greater market share, he adds. However, Soutter is hopeful that after a few months of adjusting to the market, buyers will be aggressively looking for new content.
As seen on Kidscreen: https://kidscreen.com/2020/05/15/pgs-invests-in-working-remotely-long-term/