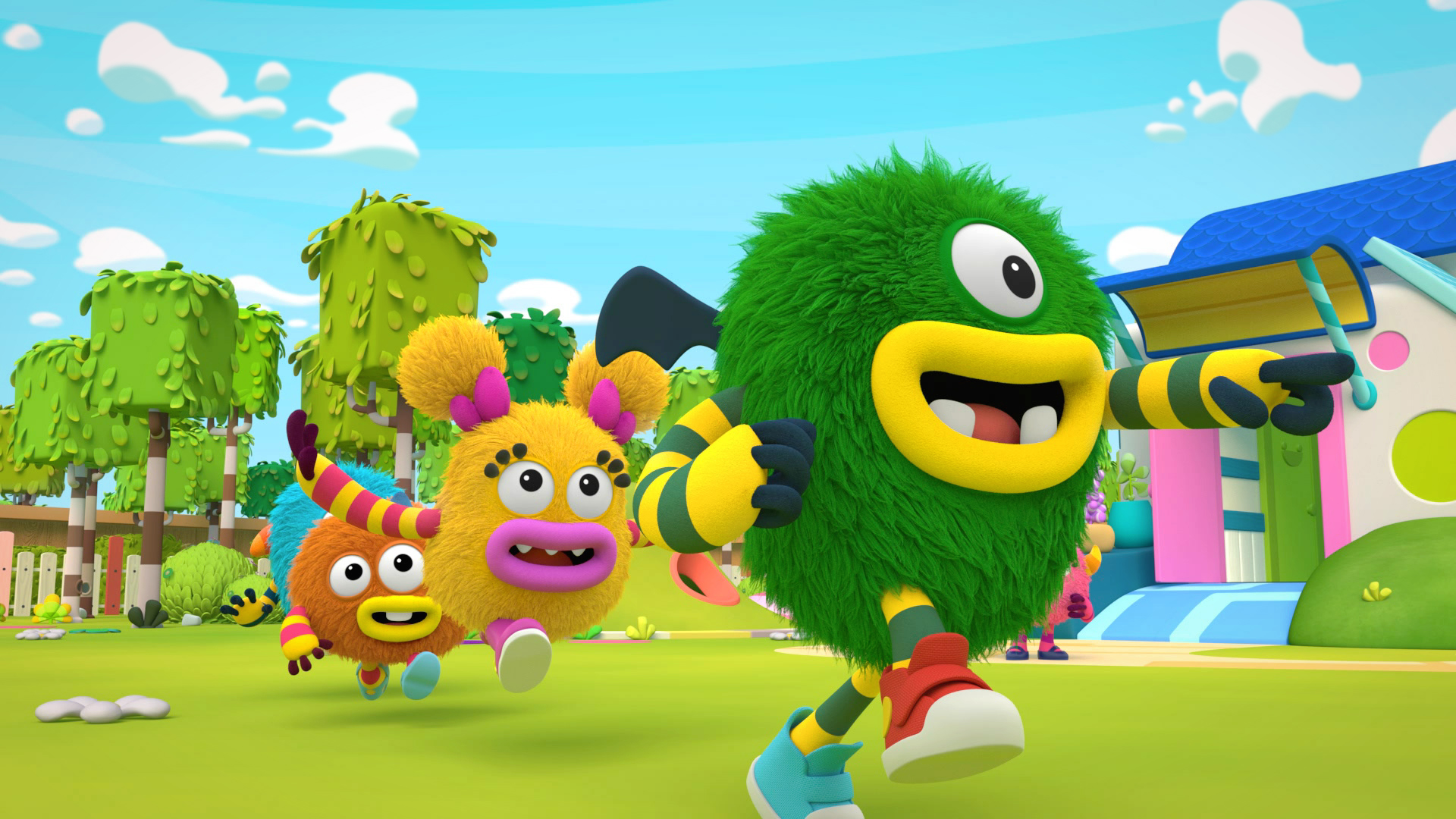 PGS has renewed its association with the Spanish production house Big Bang Box for Season 2 of the colorful preschool show Momonsters. The new season has already premiered on the leading children's Spanish broadcaster Clan, in mid-March. In only 14 days of broadcasting, the second season featured in the Top 10 shows amongst children of 4+ years old.
The series is a live-action and CGI show introducing happy and curious Momonsters – Haha, Hehe, Hihi, Hoho, and Huhu. The little Momonsters want to be a child's best friend, but where can they learn how? At the Momonsters Academy! Each day, a different boy or girl will show them their favorite things like playing hide and seek, decorating muffins, playing soccer, dancing with a hula hoop, and reading a comic book. Afterward, they will do it themselves. Under this simple but emotionally binding premise, children learn how to deal with emotions and fears, learn about friendship, teamwork, and understanding other perspectives. Since its initial release in 2019, Momonsters has deeply hooked children aged 2 to 5. Owing to the popularity of the series, TVE is already in talks for the production of Season 3.
The series is currently airing on several public and private broadcasters and VoD services in over 50 territories worldwide. HBO Max (LATAM), Gloob (Brazil), RTP (Portugal), TG4 (Ireland), Lattelecom (Latvia), MTVA (Hungary), LRT (Lithuania), Showmax (Africa), Jeem (Middle East), Daekyo (Taiwan) and Entire Brands (China) are currently airing Season 1 of the preschool series. The show has seen great success in linear programming and digital space and has won hearts globally.
With the brand's growing popularity, toy master Bandai has launched a complete toy collection. Other licensees include Panini and Anaya (editorials), Toimsa (bicycles), Colorbaby (outdoor), General de Juguetes (play items), CYP Brands (bags & stationaries), Reig Musicales (musical instruments), Adalberto (textile) and many more.
"We are excited to help Momonsters expand globally for Season 2. Performances in Spain have proven the show's potential for preschoolers around the world!" says Philippe Soutter, founder, PGS Entertainment.
"We are thrilled about our renewed association with PGS Entertainment. As producers, we are going the extra mile with additional seasons and developments of Momonsters, and having Philippe, Guillaume, and their team aboard is amazing. Stay tuned, as there are lots more to come soon," says Guillermo Velasco, co-founder and executive producer at Big Bang Box.