PGS comes on-board as global distributor with TF1 as commissioning broadcaster on Technicolor Animation Productions new show Gus – the Itsy Bitsy Knight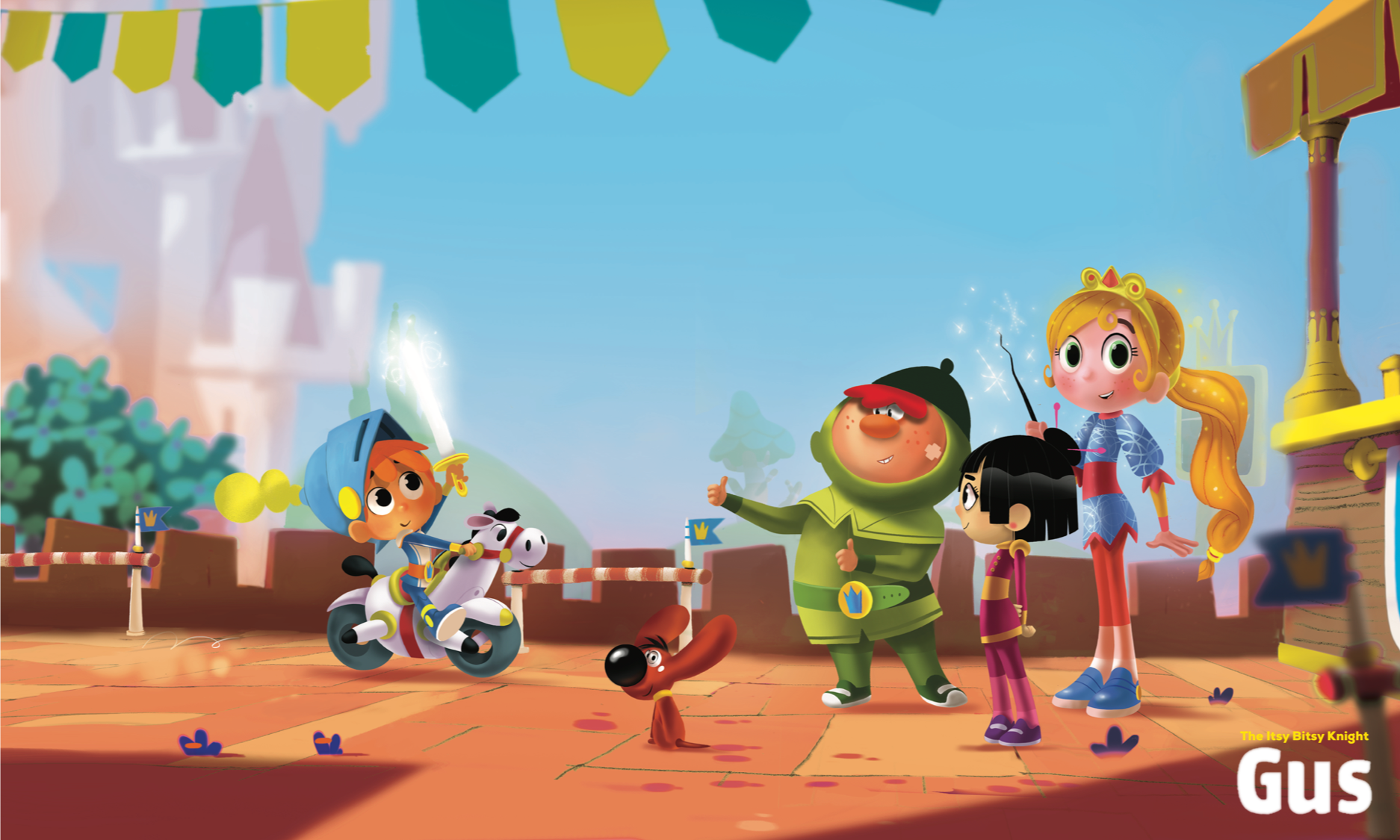 Award-winning kids entertainment distributor PGS Entertainment is on-board as global distributor (excl. France) with commissioning broadcaster TF1 for the new preschool series from Technicolor Animation Productions, Gus – the Itsy Bitsh Knight. Based on a major publishing success in France, the inspiring characters created by Dankerleroux and Françoise de Guibert for Editions Gulf Stream, Gus – the Itsy Bitsy Knight is a new comedy adventure series, targeting 4-7 year-olds in 52 x 11-minute episodes. The series will begin delivering in 2020.
Presented in CGI animation, the series takes place in a world once upon a time … but now. Cars, electric ponies, and other wonders of modern technology exist in this medieval world, but coincide with knights, dragons, and magic! The story follows a small boy named Gus, who wishes to become the greatest knight in all the kingdom of Karamel. Armed with his laser sword and mounted on his electric pony, Gus never misses an opportunity to pursue adventure and win the day. The problem – just a slight problem – is that Gus is a pipsqueak! Knee-high to a grasshopper, he is as small as his heart is big. But Gus will prove to all that nothing is impossible for one with a valiant heart, and that there is no knight greater than Gus – the Itsy Bitsy Knight!
"We couldn't be more excited to adapt the world of Dakerleroux & Françoise de Guibert to TV for kids. We love the vibrancy and unique group of characters from the stories, and we're dedicated to bringing the same magic to the series. TF1 has been a great partner for some of our previous shows and we're excited to work with them again on Gus," says Sandrine Nguyen of TAP.
"During the last edition of the Salon du livre et de la presse jeunesse de Montreuil, we had a real crush on the books Gus Le Chevalier Minus. The high degree of fantasy of this comedy-adventure, full of anachronisms and super endearing characters immediately seduced us. We are thrilled to be working on this new project with Technicolor Animation Productions teams" explains Yann Labasque, director of TF1's youth programs.
"We're very pleased to be on-board this new series. We've already received an overwhelming amount of positive responses to the show and we're certain that Gus will connect with kids around the world and bring massive success to broadcasters," says Guillaume Soutter of PGS.
As seen on:
Animation Magazine: https://www.animationmagazine.net/tv/pgs-to-joust-with-technicolors-gus-the-itsy-bitsy-knight/
C21: https://www.c21media.net/tf1-duels-with-itsy-bitsy-knight/
Rapid TV News: https://www.rapidtvnews.com/2019062056425/pgs-goes-global-with-gus.html#axzz5rltfeHKr