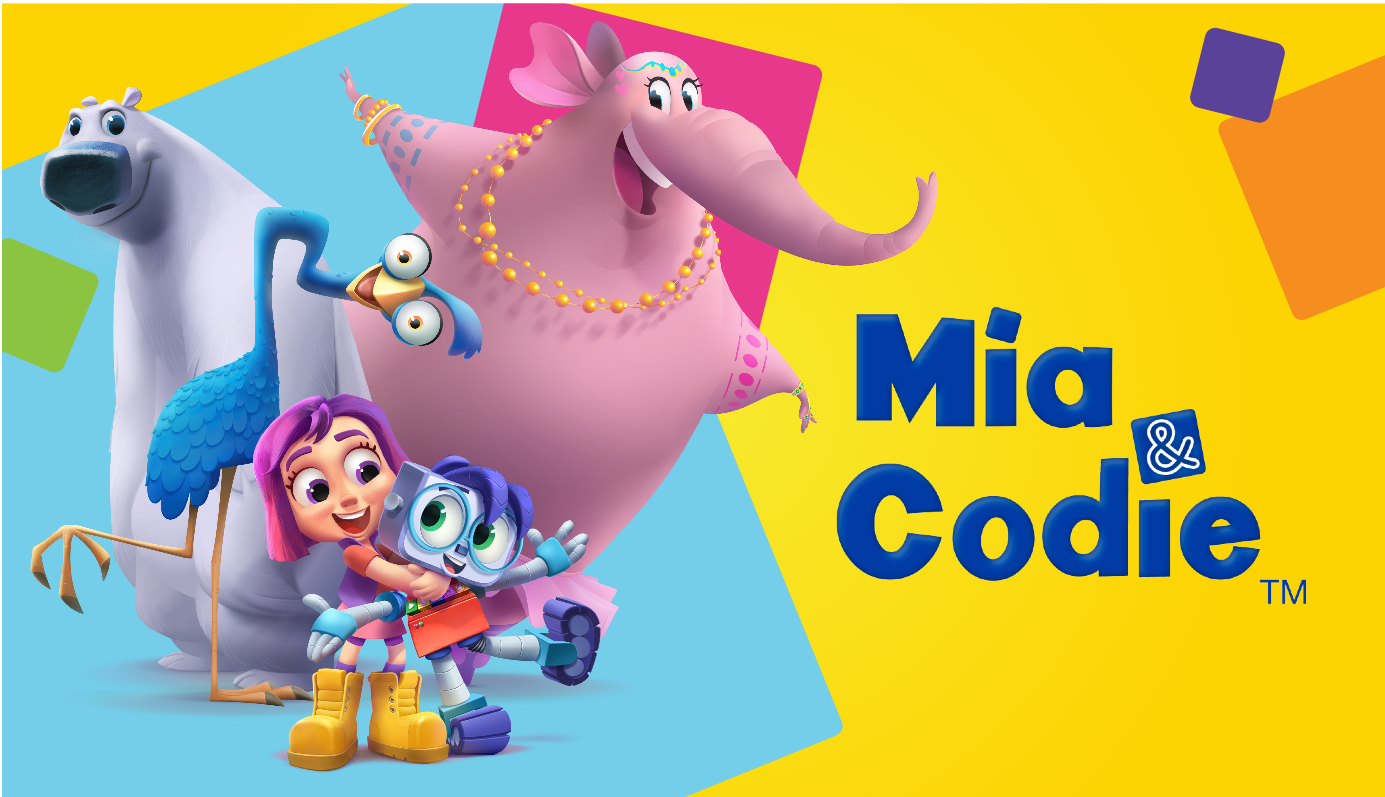 Today, we sat down with Don Moody, the creator of the mega-hit WordWorld (aired in over 100+ countries with #1 ratings, including the U.S, on PBS) to discuss his next hit Mia & Codie. He discussed how he's taking a new approach to coding, his desire to create a unique universe for the subject, and the fun that's coming soon!
Where did the idea of Mia and Codie come from?
I heard Mitch Resnick at M.I.T. say that coding is the new literacy, which resonated with me as I had spent a great deal of time working on literacy projects with WordWorld. So, I had the notion that I could apply my knowledge gained from that experience to coding and perhaps I could develop a means to make coding simple enough to teach to preschoolers.
Who's the team that you have on-board?
For a project like this you need a great team, and the good news is that, when you're working on a great idea, it organically attracts great people. Thus, we have been very fortunate to work with Scott Hand, Education PhD and an expert in coding & curriculum; Jacqui Moody, an Emmy Award winning writer; and Natasha Crandell, who did all of our child research. We also have the good fortune to work with Jens Peter de Pedro, who created everything at Toca Boca, the world's most downloaded preschool app.
What's the show about?
Together, Mia and her "bro-bot" solve everyday preschool problems using code blocks, out-of the box thinking and gung-ho exuberance. When a challenge arises, Mia and Codie are ready to RUN THE CODE and turn the ordinary into the extraordinary!
Can you tell us about the characters in the show?
Mia and Codie are great characters. They are close siblings, who are always accompanied by Evu the emu, who can't fly. Then there's Velvet the elephant, who can dance. The universe in which they live is a fun, funky, wacky, world. It's also a warm and friendly one, so much so that the buildings actually hold hands!
What makes Mia & Codie unique?
What I love most about Mia and Codie is MIA. She's the star, and she's an empowered girl. She's the superhero with the superpower of coding, which she applies, as any worthy superhero would, to saving the world.
What's the vision for the universe?
Our goal is for Mia and Codie to put the power of coding into every child's hands.
People think that coding is something only for boys or for scientists, but it actually carries a far larger significance – it helps the development of cognitive, emotional, and social competencies in everyone. Will the show appeal to both boys and girls?
Coding does appeal to girls and boys equally, even though it may well be that young boys and girls want to do different things with it. Girls often want to use coding to save the world and help society, while boys may more often wish to use coding to play games. Regardless, however, boys and girls are, indeed, equally interested in coding and they all gain much more than just the ability to code – they gain resilience. In addition, because, at the end of the day, this is a television show that depends on storytelling, all children will learn social and emotional lessons from every episode.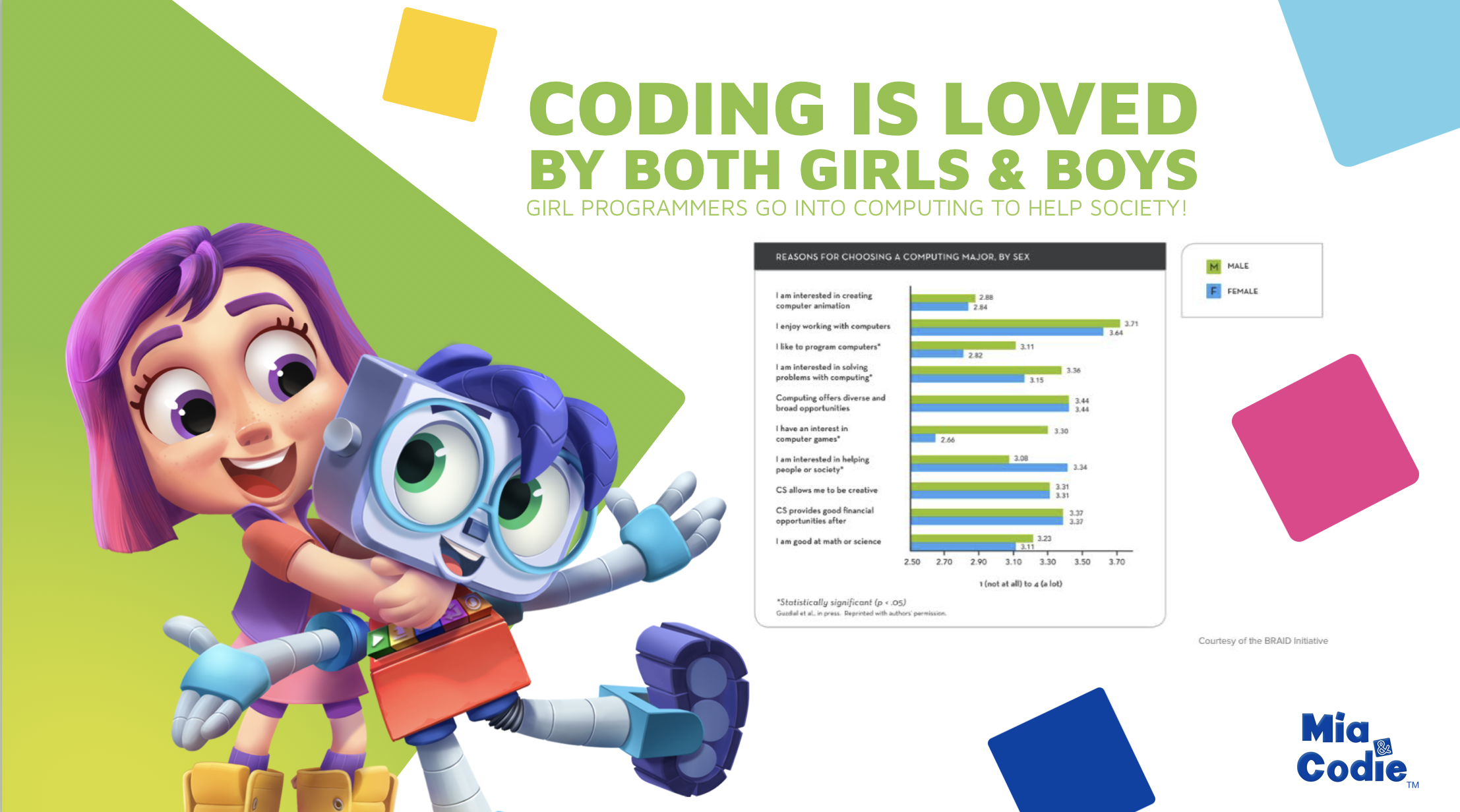 What is it going to bring to kids to understand coding through the show?
I think, most importantly, that kids watching Mia and Codie will come to understand computational thinking, which is essentially the breaking down of a big problem into smaller components, and then putting those smaller ideas back together to solve the larger problem.
How do you balance the fun and the learning?
The key at the outset is to incorporate the coding into the plotline. When education is a part of the story, it frees you up to have funny characters, crazy worlds, fun adventures, and so on. If education is built in, you don't have to spend a lot of time looking for it. So, we get to surround Mia and Codie with some very funny characters like Evu the emu, who's reminiscent of Kramer in Seinfeld, the kind of crazy character who pretends to be an expert in everything. And, of course, because Codie is so gullible, he gets sucked into every wacky adventure that comes his way. Some of the other characters, like Velvet the elephant, bring warmth and love to the table. In fact, so does the world itself, because it's run on codes. Anything you do in that world is not only fun, but it also makes you think. Whether it's just walking down a sidewalk or climbing up stairs, you have to think about how we're going to code it.
What kind of ecosystem did you build around the property?
In addition to the series, we also created an app and toy that is all interconnected. It's a true a 360° digital approach with the first interconnected toy that makes learning to code, as easy as playing with blocks.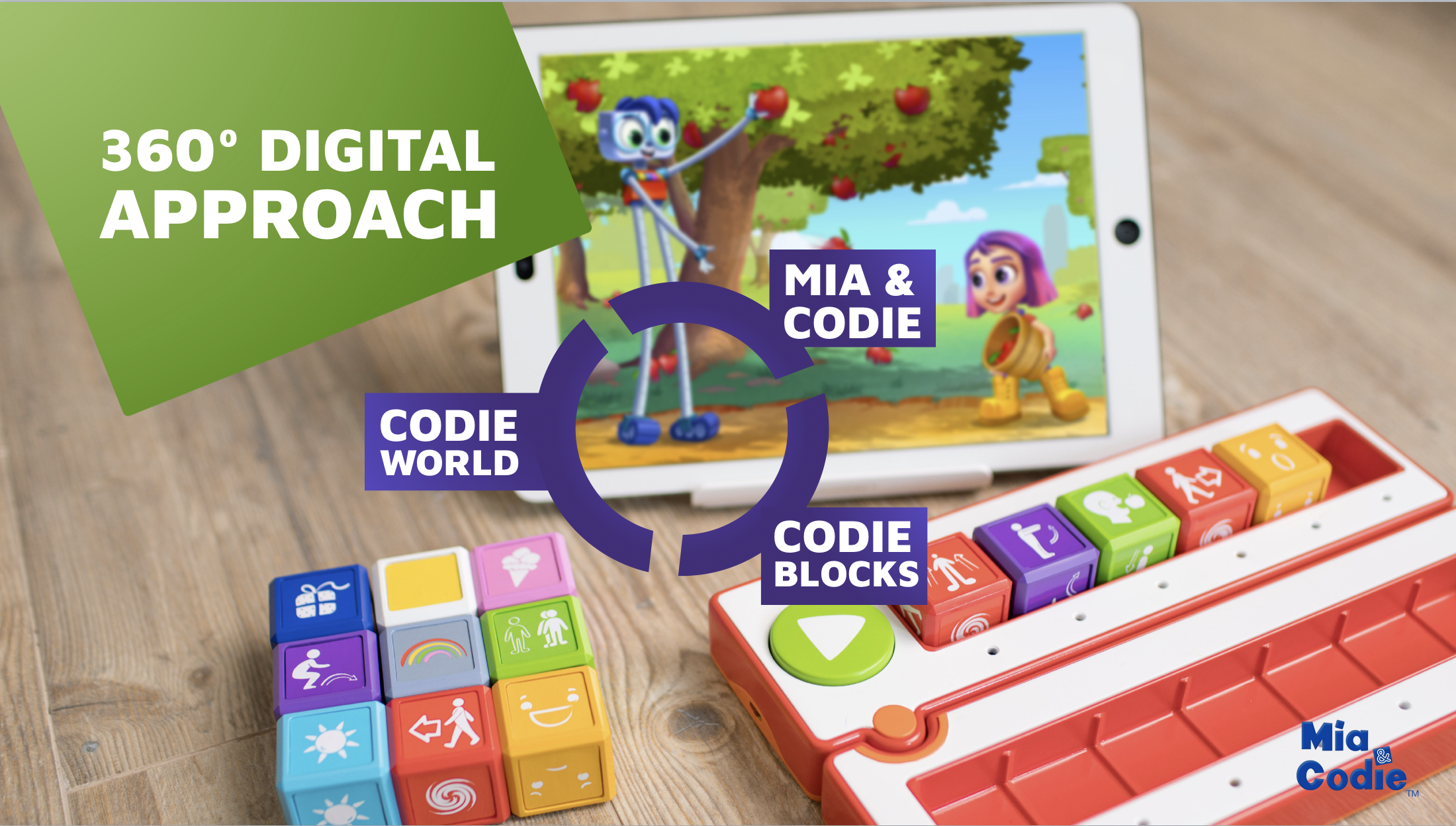 Tell us a bit more about the blocks. Are they your invention? Are they something that actually exist?
After two years of research with learning and thinking about how I could make coding tangible for children, I came up with the blocks. Blocks are the way young children learn the alphabet. They're the way they learn numbers. So, we came up with coding blocks. I wanted to ensure that coding blocks really worked in the real world with real children before modeling them in the show, which is exactly what we did.
Have the coding blocks worked with kids?
As I said, we tested the blocks with kids in the early stages in our development. The results were unbelievable, with kids acquiring the ability to write coding sequences through the blocks even without any instruction. In fact, with the synergy created by the app and the series, the blocks are so engaging that kids don't want to stop playing with them!
How is Mia and Codie different from other coding shows?
Mia and Codie is not just about coding. Kids will learn about friendship, teamwork, and self-discovery, among other important developmental topics. Many coding shows are heavily curriculum-based and forget about the human side. Ours does not. Also, with the coding blocks that we've created, you don't need to know a language to learn how to code. Most coding products are too limiting for younger children because they require knowledge of words and/or numbers that they can't reproduce. Ours do not.
We have come across something called literate programming. It's a concept that has been very heavily studied, and it allows children to program the way that they think. Children are very literate verbally at a young age and we take advantage of that with the coding blocks by putting images on the blocks. It's a universal language comprehensible for any child, at any age, anywhere in the world. You don't need to first speak or write English or Chinese or French or German or Italian or any language at all.
Created by: Don Moody
Head Writers: Jacqui Moody, Claudia Silver, Andy Yerkes
TV Curriculum: Natasha Crandall
Coding Curriculum: Scott Hand
Media Distributor: PGS